Train­ing
Our com­pany is equipped with train­ing rooms and cer­ti­fied train­ers of secu­rity offi­cers accord­ing to KEMEA (Repanas Dim­itrios), E.KE.PIS (Repanas Dim­itrios) and L.A.E.K (Gimnopoy­los Ilias, Mironi­dis Danihl and Xar­alam­pidis Anas­ta­sios) aim­ing at the con­tin­u­ous train­ing and pro­fes­sional devel­op­ment of our staff, through pro­grammes con­tin­u­ous train­ing cir­cles of L.A.E.K.
In our mod­ern train­ing rooms, the staff of MEGA GUARD is trained about secu­rity issues, first aid in the work­place and fire safety.
The basic train­ing of our staff, for the area of Thes­sa­loniki is tak­ing place in our pri­vate owned offices located in Lan­gada, and in the area of Athens, in our new train­ing room of our offices in Peri­s­teri. As far as the rest of Greece is con­cerned, spe­cialised train­ing ses­sions are tak­ing place through­out the year from our in-​house train­ers in cer­ti­fied train­ing insti­tu­tions or rented facilities.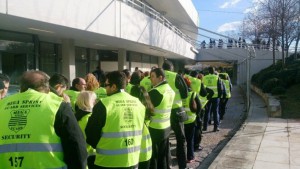 Mega Guard as a secu­rity com­pany, except from pro­vid­ing high qual­ity secu­rity ser­vices to its clients, is a lead­ing train­ing insti­tu­tion for secu­rity staff.
Secu­rity sub­jects that are cov­ered are
Secu­rity of per­sons, goods, money trans­fer, infor­ma­tion and telecommunication
Counter action for extreme-​high dan­gers agains human behav­iour (ter­ror­ist actions) as well as pro­tec­tion from ran­dom cat­a­strophic events.
Com­mer­cial — Indus­trial espionage
Secu­rity of con­fer­ences and mis­sion travelers

VIP

pro­tec­tion
Port and ship-​cargo security
Avi­a­tion security
Secu­rity of health institutions
Secu­rity of logistics
Secu­rity of edu­ca­tional institutions
Secu­rity of media companies
Casino Secu­rity
Gen­eral knowl­edge of tech­ni­cal pro­tec­tion measures
Risk Man­age­ment
Knowl­edge and under­stand­ing out­law behav­ior for the pur­poses of prevention
Recog­ni­tion of signs of dan­ger­ous sit­u­a­tions — Brief­ing — Prevention
Fire pre­ven­tion
Basic duties of manned staff for effi­cient oper­a­tion and guarding
Self defense
Legal mat­ters
Doc­u­ment and infor­ma­tion handling
Orga­ni­za­tion of admin­is­tra­tion, eng­lish pro­fes­sional terminology
Coop­er­a­tion with national authorities
Prac­ti­cal appli­ca­tions and the­o­ret­i­cal aspects of security