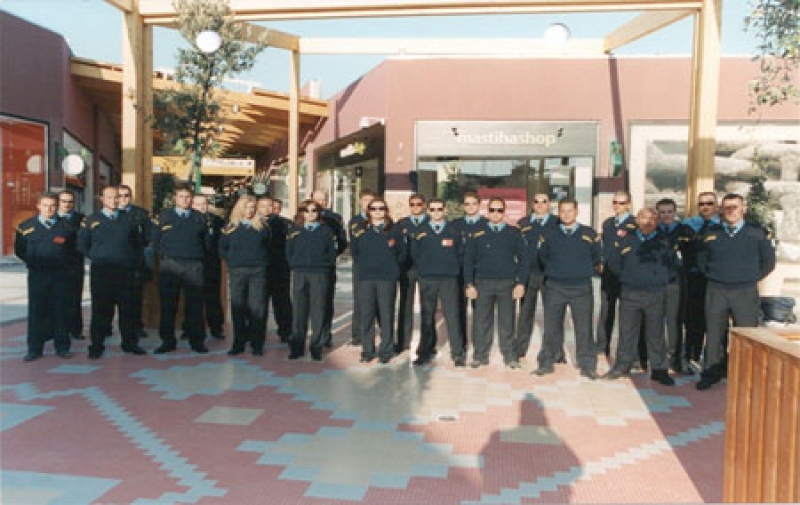 The staff MEGA GUARD SA is highly trained in the most mod­ern global meth­ods for safety and secu­rity ser­vices.
Com­pany employs hun­dreds of staff which is dis­trib­uted:
Secu­rity guards and offi­cers : secu­rity per­son­nel, guards, war­den, tutors etc.
Office work­ers: Admin­is­tra­tive Staff-​Secretary-​accounts-​revenues-​sales-​management
Tech­ni­cal staff: Elec­tri­cal and installers of secu­rity systems-​cameras etc.
Dri­vers: secu­rity patrolling guards
A big advan­tage of MEGA GUARD SA in terms of staff in rela­tion to the other com­peti­tors is its low staff turnover and retire­ments few work­ers from the com­pany, which result, high expe­ri­ence and excel­lent service.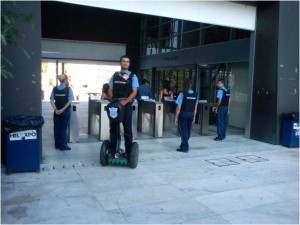 Per­son­nel Selec­tion Process
Through a series of pro­ce­dures that are not con­trary to the laws relat­ing to the selec­tion of per­son­nel, Mega Guard Inc. col­lect infor­ma­tion on can­di­dates to cover an employ­ment posi­tion. Based on these is the choice of the per­son who is most suit­able.
The method­ol­ogy used for this pur­pose are the following:
Min­i­mum Qual­i­fi­ca­tions
Accord­ing to the stan­dards of MEGA GUARD min­i­mum qual­i­fi­ca­tions for hir­ing a secu­rity offi­cer is:
Work per­mit secu­rity per­son­nel on the law 2518⁄97
· White-​demand crim­i­nal record on the law 2518⁄97
· Wak­ing, sound judg­ment, inge­nu­ity
· Con­fi­dence — pro­fes­sional approach
· Hard work and good com­mu­ni­ca­tion
· Matu­rity and sense of duty
· Good gen­eral phys­i­cal con­di­tion, good appear­ance, stan­dard ratio of height and weight
· To with­stand stand­ing and walk­ing at least 8 Hr
· Be able to run 1000m in 5 min time
· Abil­ity to trans­fer at least 30 Kg weight within 50m
· Nor­mal vision 10⁄10 (with glasses)
· Abil­ity to dis­tin­guish com­mon col­ors
· Full audi­tory acu­ity
· Edu­ca­tion (grad­u­ate school)
Job Analy­sis
That is the detailed descrip­tion of the work of cus­tody will be required to per­form the can­di­date, and the con­di­tions in which you work. This infor­ma­tion, which are usu­ally drawn from the staff already work­ing on a stor­age ser­vice and facil­i­tate the respon­si­ble per­son to clar­ify the nature of work and the fea­tures should have the per­son who hired.
Appli­ca­tion of the can­di­date for a posi­tion
Can­di­dates com­plete the sup­ple­men­tal appli­ca­tion form Recruit­ment, which con­tains among oth­ers ques­tions about smok­ing and other health issues that would likely affect the abil­ity of full exe­cu­tion of tasks mod­eledMEGA GUARD and in accor­dance with the reg­u­la­tions of the customer.
Test capa­bil­i­ties — skills
All secu­rity per­son­nel MEGA GUARD SECU­RITY sub­jected to test capabilities-​skills. A test which must be passed to allow uptake. These tests sup­port and enhance effec­tive project man­age­ment of human resources, where pos­si­ble through these
a) To deter­mine if a per­son is unable to meet the demands aris­ing from spe­cific work envi­ron­ment.
b) To iden­tify the stor­age that fits the per­son­al­ity and incli­na­tions of the indi­vid­ual.
c) To opti­mally exploit the iden­ti­fied com­pe­ten­cies and skills avail­able to the indi­vid­ual.
d) To check whether the cur­rently selected spe­cialty trainee meets the per­son­al­ity and incli­na­tions of the indi­vid­ual.
e) To iden­tify alter­na­tive career and also the indi­vid­ual inclines
Recruit­ment Process
The MEGA GUARD SECU­RITY see­ing that prospec­tive employee meets all con­di­tions goes to recruit­ment by offer­ing well-​paid, objec­tives and an ideal work­ing envi­ron­ment.
This brings us to the most pre­ferred employer in Greek secu­rity mar­ket. Hun­dreds recruit­ment requests addressed to Per­son­nel Depart­ment of the Com­pany con­firms its rep­u­ta­tion MEGA GUARD and the abil­ity to be able to choose at any time new staff with strict stan­dards which it has adopted.
Qual­ity Assur­ance
The MEGA GUARD is cer­ti­fied with ISO 9001: 2008 and in the stor­age ser­vice. This means that they are fol­lowed con­sis­tently and com­plete all recruit­ment pro­ce­dures and that all required doc­u­ments are archived for future reference.
Pri­mary edu­ca­tion
After recruit­ment, the secu­rity per­son­nel involved in manda­tory Basic Edu­ca­tion Employ­ees Sheet accord­ing to the con­tours of E.KE.PIS. Guard­ing Ser­vices for Indi­vid­u­als and property.